Innovation is part of the fabric of Airlite. We're vigilant about it. If there's a way to improve the efficiency, sustainability, and quality of what we do — we do it and pass those benefits on to our customers. The new Microwavable Sleeveless Tray (MST) from Airlite is just the latest proof of that.
Looking at the existing packaging landscape of microwaveable ready-to-eat foods, it was clear where we could help simplify and streamline. More often than not, we see these plastic tray products packaged inside of a secondary, branded paperboard sleeve.
But the truth is, with our advanced IML packaging (in-mold labeled), the sleeve is unnecessary, a hassle, and a waste.
Our solution? Skip the sleeve.
Simplicity
The paper sleeve over the tray adds an unneeded extra step to the packaging process. The Microwavable Sleeveless Tray (MST) removes the secondary paperboard wrapping component entirely, resulting in significant operational savings for our customers.
In addition, the shape of the product doesn't present any unique challenges to the filling and sealing sides of the process. Our engineers have worked to ensure its design fits existing industry-standard carrier pockets and fillers. But of course, if your team requires any consultation, Airlite's field engineering team will come to you directly to ensure it works in your facilities.
High Impact Design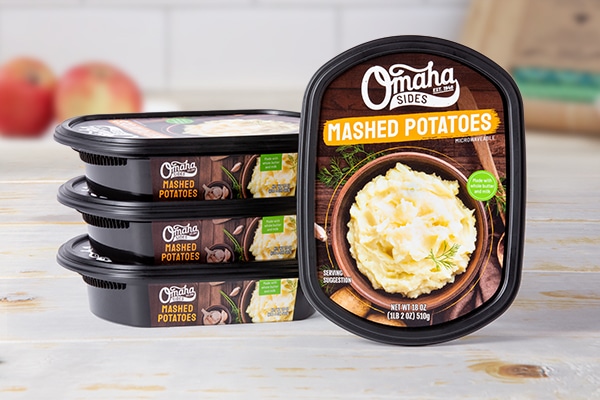 We understand the aesthetic role the paperboard sleeve has played for microwavable containers. However, the high-impact graphics produced on the MST virtually eliminate the purpose of the paperboard sleeve.
IML packaging, now one of the most popular and premium packaging options available, produces rich, vivid, scratch-resistant graphics on the container and lid. IML decoration makes an impression and stands out in an aisle full of paperboard wrapped trays.
The MST is also infinitely reusable due to its durability, re-closable lid, and cool-touch handles that allow for safe handling out of the microwave. And with high-impact branded graphics that never peel off, a repurposed container and lid become a long-lasting billboard in the end user's kitchen—even after a dozen trips through the dishwasher.
Sustainability
It's obvious, even at first glance, that the paperboard sleeve is a waste of raw paper materials. Airlite, like many of our customers, is committed to reducing our environmental footprint and creating sustainable food packaging. By using the MST, our customers will save millions of trees and significantly reduce their carbon footprint.
Also, the MST's re-closable lid makes it highly reusable. Consumers can heat mashed potatoes, refrigerate unused portions without tin foil or cellophane, and later reheat the product in the same container. And when the product is gone, they'll have a dishwasher-safe, microwaveable container that remains easy to repurpose in the kitchen or around the home.
All of our containers, including the MST, are 100% recyclable. But we're proud to announce the MST can also be made using up to 50% post-consumer recycled plastic (PCR). We've long recycled and reused post-consumer polypropylene scrap to manufacture other non-food products, BUT only recently have we developed a product and process that allows for PCRs to be used in FDA approved recyclable food packaging.
This is big news. Now, we only need to rely on virgin resin for half of the product, with the rest coming from polypropylene that has already gone through the recycling stream.
We hear consumer needs. We want to make the world better. We fully believe in a circular economy. And for Airlite and our customers, the MST is an important step toward creating sustainable food packaging that supports that vision.
Let's Connect
Contact us today if you're interested in learning more about how the Microwavable Sleeveless Tray can help you save on operational costs, make an impact on the store shelf, and further help your company reduce its effect on the environment.
---