A trip to the ballpark is an iconic summer tradition. Just picture it in your mind and you can almost smell the popcorn, hotdogs, and giant pretzels. You can practically hear the vendors passing by shouting the names of drinks and snacks.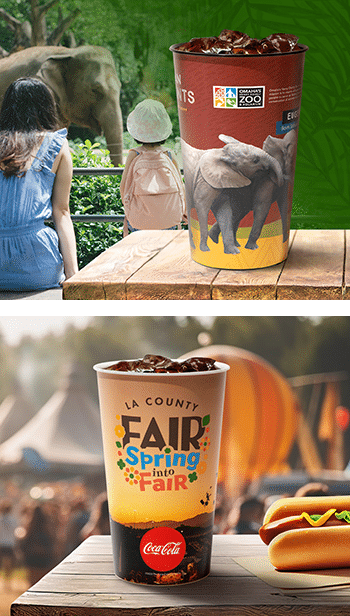 It's all very nostalgic when you're there. It might be a first date. It could be your kid's first game ever. It might be the night you see an incredible game-winning play that you talk about the rest of your life. These are the kind of moments that stick with you. But, as we know, even the best memories can fade over time.
That's why people buy a souvenir, to have something to mark the occasion and refresh their memory. In the moment, though, people often forget to get one or avoid spending the extra money. But if you have a high-quality, dynamic, reusable souvenir cup in your cup holder, you've already got the perfect one right in front of you. Because a cup like that is more than a cup, it's a memento and a collector's item that demands to go home with you.
At Airlite, we help our partners at sporting venues, zoos, theme parks, state fairs, restaurants and more to help deliver custom, branded souvenir drink cups too good to toss away.
Here are some of the benefits of high-quality, reusable drink cups from Airlite and how we can help make the purchasing process easy, enhance your brand and improve the customer experience:
We offer our customers a portfolio of reusable, injection-molded cups to choose from. These cups are available in sizes from 12oz up to 52oz, in various colors, and with the option of matching lids and straws.
Whether you're looking for premium IML cups (in-mold label) or something more economical, we work with you to determine the best cup and decoration combination. Depending on your needs and budget, we offer a range of decoration options, from our traditional dry offset printing, vibrant flexographic hybrid printing (The Look™), or our durable, seamless in-mold labeling (IML).
We know many of our partners have limited graphic design resources and little storage for concession cups. At Airlite, we want to make things easy. Our in-house team works as an extension of yours to help you navigate design and determine a plan of action for warehousing and minimum order quantities.
You have sustainability initiatives on your radar, and so do we. Our drink cups are durable, mono-material (polypropylene), dishwasher safe, and made to be infinitely reusable. And when eventually they are discarded, they are easily curbside recyclable. In addition, our souvenir cups can be made using PCR (post consumer recycled) material, which only moves us all a step closer to our sustainability goals.
____
A branded drink cup from Airlite is a win-win, giving people a great keepsake they can use again and again, while also reducing the use of single-use plastic. Contact us today if you want to learn more about how our sustainable souvenir cups can make a difference for your fans, your brand and the environment.
---