This March, our team made the annual trip to Anaheim, California, for the 2023 Natural Products Expo West. It's one of the consumer packaged goods industry's biggest events, with over 65,000 registered attendees and 3,000 exhibiting companies. It was great to connect with others in the industry, support our partners in attendance, and take in the latest trends. 
Plant-based & better ingredients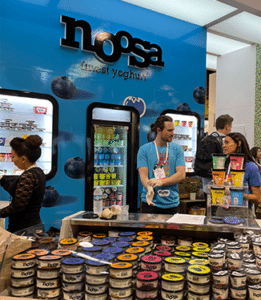 Expo West is the event of the year for natural and organic food and beverages; and for those looking to see how the industry is innovating to meet the demands of consumers and our planet.
At every turn are new products with bold, healthy ingredients that don't sacrifice taste or, in some cases, even add a bit of indulgence, like the just launched "better-for-you" line of frozen yogurt gelatos from Noosa.
Another highlight was watching the growth of plant-based products, like those from our iml packaging partners Daiya, Vevan, Boursin, and brands like Climax, who are using AI to manufacture plant-based cheese that tastes just like the real thing.
 "
The energy on the floor this year makes it undeniable. The thousands of new products on display are from an increasingly diverse group of founders and serve a diverse consumer base that cares about ingredients and responsible sourcing."
— Carlotta Mast, Senior Vice President at Informa Markets' New Hope Network

Functional & medicinal foods
This year, we also heard a lot of conversation and excitement about the emergence of functional foods, or foods created and formulated to provide better health benefits.
Consumers want clean, wholesome products with added minerals, vitamins, antioxidants and nutrients. So it's not just about healthy ingredients anymore, but what those ingredients do to boost your overall well-being.
And as functional foods have continued to grow, so has the focus on packaging that allows the products to be preserved effectively. 
For example, more of our partners, like Ithaca Hummus, require packaging options capable of withstanding high pressure processing (HPP). HPP is known to maintain flavor, color, and nutritional value better than traditional forms of pasteurization. An increasingly popular form of pasteurization, HPP protects the product by killing food-borne pathogens with high pressure, instead of heat.
Sustainability drives growth.
Another important topic to everyone at the show was sustainability. And what the trends show us is that companies that are committed to both sustainability and measuring the outcomes of sustainability are growing faster. So beyond it being the right thing to do, sustainable practices are also table stakes for companies looking to grow. Consumers expect them, and by making those investments now, you position yourself for future growth.
For example, we heard several companies proudly promoting themselves as plastic neutral, a distinction achieved when an organization's plastic footprint is balanced by removing and recovering plastic waste from nature.
It's essential to see this commitment toward creating a truly circular economy. This is why Airlite joined the U.S. Plastics Pact in 2023, dedicating ourselves to promoting circularity, using post-consumer recycled materials (PCR) whenever possible, and reducing our customer's dependence on virgin resin.
---